Tuesday, July 13, 2010
Paco -- The Mexican Dynamo

This little chihuaha has created many "White Light Rainbows" for me the past couple of weeks. I was at the right place at the right time during a downpour of rain and found him running frantically across the street from corner to corner. No collar, no microchip, so I picked him up and took him home. Attempts to find his owner have been unsuccessful to-date. He has cleaned up well and has made a home here with me and Rainbow. Several friends, who have rescued many critters in the past and are full up with their own critters, have offered to help with Paco's expenses. They have become Paco's "other mamas" and have requested at least 1-2 visits a week at their work site to play with Paco. My friends have created a rainbow for me and Paco with their generous assistance. Paco has created many rainbows....and I guess I created a rainbow for Paco. It has been fun having Paco around and Rainbow has adjusted very well to her new brother. Basically, she just ignores him.


http://www.photoshow.com/watch/sc4pJ2aS
Tue, July 13, 2010 | link
Saturday, July 3, 2010
Blue Flowers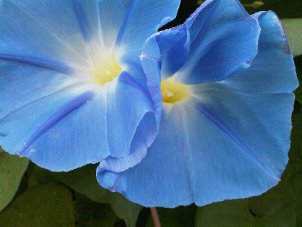 These Blue Flowers were a "White Light Rainbow" for me. I found this picture on a friend's facebook site. Its simplicity and beauty immediately brought a smile to my face and confirmation of the beautiful complexity of God's creations. Special thank you to Denette for capturing this "White Light Rainbow" for us.




Sat, July 3, 2010 | link